The PATLITE SF Series LED Warning Beacons are durable, reliable, and provide higher visibility than other LED signal beacons, making them the perfect signal for any emergency or commercial applications.
Their motorless, maintenance-free design is high-efficiency and multi-functional. Functional capabilities include simulated rotation, flashing, and pulsing effects.
The SF Warning Beacons are designed with PATLITE's newly developed multi-fresnel lens. This thin, rigid lens is capable of collecting and diffusing light more effectively than a conventional lens; the SF LED lens has a 600cd rating, which dwarfs the 6cd rating of competitor warning beacons.
They are also incredibly reliable and resilient, and are guaranteed to work for up to 100,000 hours.
Available in 80mm or 100mm sizes, in Red or Yellow, and with 12-24V DC or 100-240V AC rated voltage. All models include terminal block mounting and feature flashing, rotating, and buzzing capability.
Light Patterns:
Select from 22 light patterns to indicate various statuses at your work field. The light pattern can easily be configured by adjusting the rotary switch and wiring channels.

[ Examples of Usage ]
● Reduce brightness during night time
● Adjust flash speeds depending on urgency
● Adjust rotation speeds depending on level of danger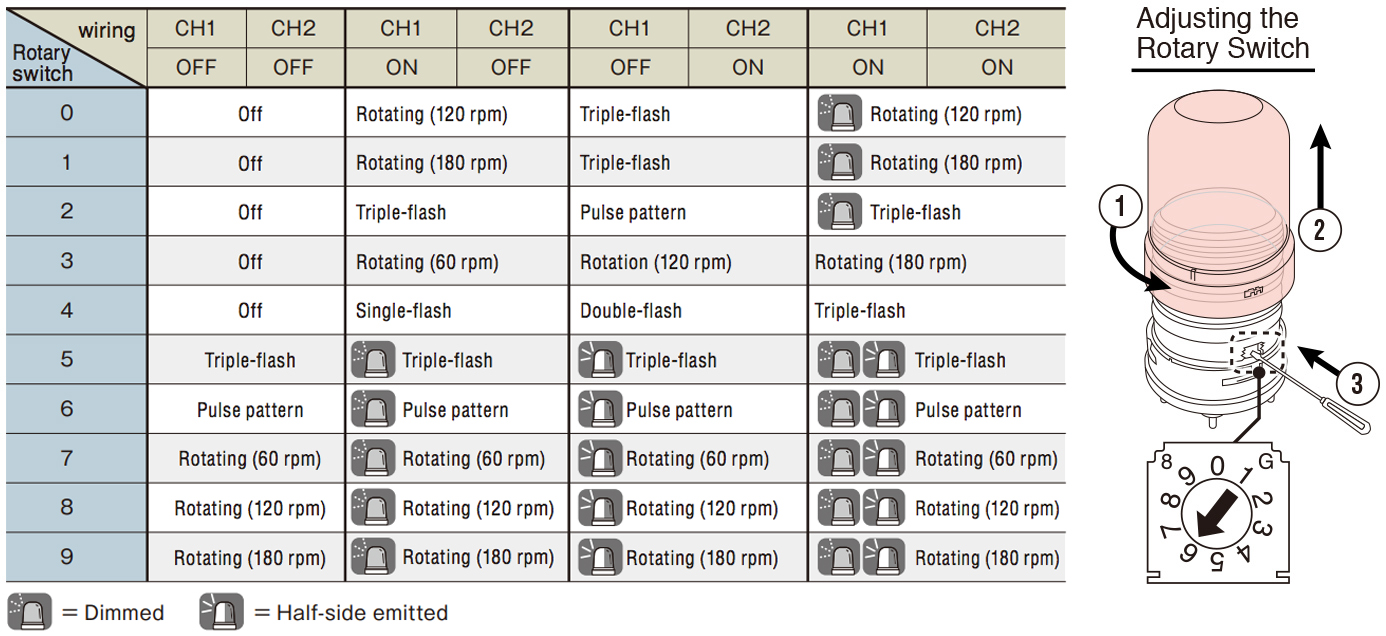 Applications:
| | | |
| --- | --- | --- |
| The SF is mounted on a fill machine to indicate multiple operation statuses using different rotation and flash settings. Select from 22 light patterns to provide unambiguous visual signals. | As the SF is powered on, visual signals will immediately begin to operate. This eliminates the need for a device to trigger operating functions for this type of application. | The SF is installed at a gate to warn pedestrians of large vehicles passing through. A timer switch is used to dim the light during the dark hours to avoid blinding drivers. |